Aether Ridge is a Rain World mod created by kaeporo. It features a derelict desalination rig to the north of Sky Islands. Aether Ridge is a massive, sprawling complex with light "metroidvania" aspects. Players will navigate harsh winds and acidic brine pools as they traverse over 200 new rooms. This mod will also add new collectibles to the game.
Notable AreasEdit
Aerial Tramway
Blast Deck
Brine Pool
Ridgeworks
Cold Storage
Desalination
Heat Ducts
Thermal Relay
The Surface
Gameplay Demonstration
Edit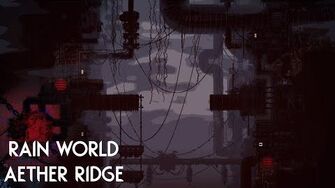 Community content is available under
CC-BY-SA
unless otherwise noted.